Iyengar Yoga Retreat
Sanctuary Retreat, Mission Beach QLD
Friday 16th August to Wednesday 21st August 2019
Weekend option is also available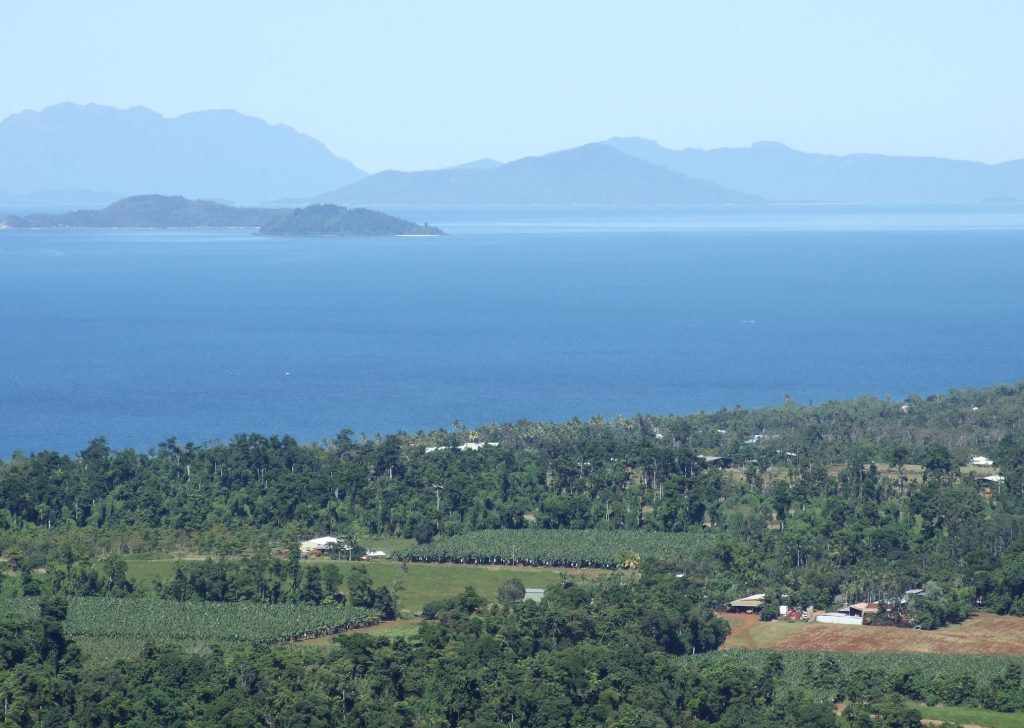 This photo was taken from Bicton Hill, overlooking Mission Beach.
Yoga Retreats offer time for you to pause and reflect on your life. With the peacefulness and beauty of Sanctuary's surroundings, it's a perfect place to re-establish your work/life balance.
On the yoga retreat you will be practicing asanas (poses), learning breath awareness and control, meditation. In the afternoons we look at Inversions, Restorative or Remedial yoga.
You have FREE time during the afternoon; book a massage, go for a swim in the pool or at the secluded Brooke's beach, go for a walk up to Bicton Hill and see the amazing views. (10 minute drive and allow 1 hour to walk) or just stay at the retreat and relax with a book
Relax, Restore and Rejuvenate.
_______________________
Yoga Retreat at Sanctuary Retreat…
6 days at beautiful Mission Beach, North Queensland
Suitable for students and teachers of any modality
Meet Jan Watson: the Teacher
Jan Watson is a certified Intermediate Iyengar Yoga Teacher. She is the owner of The Yoga Centre at Mission Beach, North Queensland.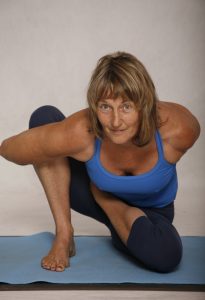 Jan is known for her compassionate and caring nature and as a teacher, embraces the alignment and precision of Iyengar yoga. With her clear instructions, you learn to feel correct actions, and so are challenged to go that little bit further.
Jan had been practicing yoga regularly since the early 1980's and has been qualified to teach yoga since 1991.
Iyengar yoga focus is on sequencing, timing and penetration so that the body, mind, emotions and soul become integrated.
COST: (Per Person)
Price includes ~ 2 or 5 night's accommodation, evening meals, brunch on Sunday, lunch on Wednesday and all the yoga.
Rainforest Hut (share bathroom)
Twin Share $1450 Single $1570
Weekend Price
Twin Share $465 Single $530
Rainforest Hut (alfresco ensuite)
Twin Share $1500 Single $1660
Weekend Price
Twin Share $495 Single $585
Deluxe Cabin
Twin Share $1670 Single $1920
Weekend Price
Twin Share $585 Single $720
DAILY ROUTINE
Friday 16th August
5.00 p.m Restorative Class (1.5 hours)
Saturday 17th August
7.00 a.m Pranayama and Meditation (30 min)
Fruit, toast, coffee/tea provided in downstairs kitchen
9.00 a.m Asana Class (3 hours)
4.00 p.m Inversions, Restorative or Remedial (1.5 hours)
7.00 p.m Dinner
Sunday
7.00 a.m Pranayama and Meditation (30 min)
Fruits, toast, coffee/tea provided in downstairs kitchen
9.00 a.m Asana (3 hours)
Brunch 12.30 p.m
Farewell to weekend students
4.00 p.m Inversions or Remedial (1.5 hours)
Monday – Wednesday
7.00 a.m Led Practice (1.5 hours)
Fruit, toast, coffee/tea in downstairs kitchen
10.00 a.m Asana practice (2 hours)
12.00 p.m Free time
4.00 p.m Inversions, Restorative or Remedial (1.5 hours)
7.00 p.m Dinner
**Wednesday's class finishes at 12.30 p.m
1.00 p.m Lunch – provided
# Other Lunches are self catered. There is a fully functional kitchen downstairs. You can eat at the restaurant or pop into town for a bite.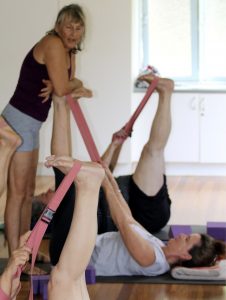 THE YOGA
Techniques and Practice:
Asanas

Led Practice Sequences

Remedial Sessions

Inversions
Asanas are the third limb and bring steadiness, health and lightness. A steady posture produces mental equilibrium and prevents fickleness of mind.
Teaching Methodology:
Correct instructions

Observations

Adjusting
Correct instructions lead to correct movement. Firstly, what are you observing? Even more important, how does this help your practice? When, how and why to adjust?
Anatomy and Physiology:
Know your anatomy

Asanas and their effect on the body systems
Knowing anatomy helps to get correct actions and focus. Asanas have a profound effect on functions of the body and on stilling the mind.
Bandha and Savasana:
Uddiyana bandha

Nauli

Learning the art of Relaxing
Bandha is a posture in which certain organs or parts of the body are contracted and controlled. Savasana teaches you how to relax and is the common denominator for both asana and pranayama.
Pranayama:
Hints and cautions

Techniques and their effects of pranayama

Pranayamas
Qualification of fitness for pranayama practice and posture during practice will be learnt. Pranayamas including Viloma and Ujjayi.
"In order to follow the techniques of Pranayama it is necessary to know something about Bandhas, Nadis and Chakras." BKS Iyengar p. 365 Light on Yoga 1991
Yoga Philosophy:
Bandhas, Nadis and Chakras
Bandhas are locks, Nadis tubular channels, Chakras are wheels or circles
THE LOCATION
"Sanctuary Retreat is an adventurous and affordable rainforest eco-lodge in Mission Beach, North Queensland, Australia, half way between Townsville and Cairns. Set on 50 acres of lush tropical rainforest overlooking the Coral Sea, Sanctuary is as much a refuge for travellers as it is for wildlife. It is suited to nature lovers and active bush walkers seeking a natural tropical environment. It is not for the faint hearted."
Choose your accommodation from basic share, alfresco or deluxe cabins. It is an unspoilt paradise with secluded beaches meeting the Great Barrier Reef. Book a massage, enjoy the delicious cuisine, and take in some breathtaking views.
You will be practicing yoga in an awesome location. A specialized yoga room has all Yoga mats and all equipment is provided.
Check it out
https://sanctuaryretreat.com.au