Our Teacher 
Teachers Mission Beach
Jan Watson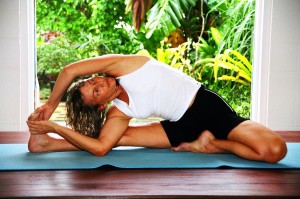 Jan has been an accredited yoga teacher since 1991. She has studied under senior Iyengar Yoga teachers…Nicky Knoff and Peter Scott. She has also studied at the Ramamani Iyengar Yoga Institute in Pune, India and with Dr. Geeta Iyengar when she has visited Australia. 
Her practice and teacher training began in General Hatha yoga styles. On moving to North Queensland in 1991, she was taught Ashtanga Yoga and also where she began her journey into yoga the 'Iyengar Way'.  
Certified as an Iyengar yoga teacher in 1997, she continues to teach and study this methodology.  
She is an excellent teacher, being both compassionate and caring.
Jan is highly trained and qualified, with extensive knowledge of the yoga asanas and their effects on the body and mind.
Her commitment and enthusiasm for yoga is an inspiration to her students.  
You will be challenged in her classes to maintain correct alignment and to penetrate in each pose and so improve your practice.  
             Jan Watson  Certified Iyengar Yoga Teacher
*Jan continues to study yoga through regular attendance at national and international Iyengar yoga retreats and workshops. You never stop learning…
How I started yoga.